Getting To SF European Hostel:

Save Money on Shuttles by utilizing the BART transport that brings you a block from our doorstetp for half the cost! Take a look at the map below:
AIRPORT:From SFO take the Bart Transit to the Civic Center stop and walk to the corner of 8th Street and turn right on Minna Street. 761 Minna Street is our address. We are between 8th & 9th and mission & howard street.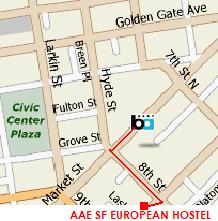 GREYHOUND: From the Greyhound Station take the #14 Muni bus, get off on either 8th or 9th streets, walk half a block South. We are located at 761 Minna Street.

From Amtrack
Head southwest on Howard St toward 4th St (0.6 mi)
Turn right at 7th St
Take a left on Minna
End at 761 Minna Street.
From Amtrack Via Bus..$1.50fare

Walk to Mission St & 4th St (About 5 mins)
Take Bus 14 to Mission st. and 8th. (About 4 mins)
Walk to 761 Minna St (About 3 mins)